If you want to "cross-connect" with other Christians in Western Australia you may be interested in joining some of these groups.
House of Prayer for Everyone (HOPE WA)
HOPE WA is the Christian community serving the Church through continuous worship and prayer for the transformation of the city, state and beyond.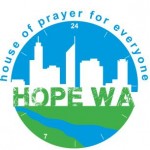 Contact: Candace Lahr Candace@onechurchperth.com
Perth Prayer
Every Wednesday, 12-1 pm, 75 William Street, Wesley Uniting Church
… businessmen and women, pastors and local church leaders representing a broad spectrum of Christian denominations … meet together in the center of the city for one day a week to pray.  … All are invited….
Listen to testimonies from Perth Prayer
Facebook: https://www.facebook.com/pages/Perth-Prayer/319659381407140